Customers Trust
Local Reviews
Collect, Manage and Promote More Reviews
in More Places to Drive More Sales
Get More 5-Star Customer Reviews!
Outrank Your Competition on Google!
Best SMS/Email Marketing & Social Proof!
Customer Google Reviews,
Facebook Reviews,
and Other Review Platforms
Help Drive Local Business Success
Virtually everyone uses reviews and ratings to make purchase decisions
97% of people search for a local business online
86% of consumers read reviews for local businesses
68% of consumers are more likely to use a local business with positive reviews
Reviews and ratings increase sales by up to 270%
A high volume of reviews drives more sales than a few reviews with a 5-star rating
More reviews in more places create more visibility, trust, and sales
Local Reviews Drive Local Search Results
The quantity, quality, and recency of your online reviews directly
impact your local online search visibility and website traffic
Google My Business results are ranked by 3 main factors:
Location:
How close your business is to the
person searching
Reputation:
How many reviews you have, your average star rating, how recent your reviews are, and where your reviews are posted
Match:
How closely your business offerings match the person's search terms
---
According to research by Search Engine Land…
"Google says in its own help document that 'Google review count and score are factored into local search ranking: more reviews and positive ratings will probably improve a business's local ranking.'"
Another SEO study states that "Review signals are becoming even more important to local SEO rankings. We know Google values trustworthy businesses, and frequent and positive reviews are one way to assess who comes out on top."
More Customer Reviews Drive More Sales
The more reviews you collect, the more sales you make. Here's why…
According to a Stanford University study…
"People tend to favor a product that has more reviews, even when it has the same low rating as an alternative product." In other words, the sheer volume of reviews creates credibility by itself, because people prefer to buy "popular" products or buy from popular vendors or stores. In essence, it's a popularity contest, and creating a mechanism to get more reviews than your competitor can become a winning strategy.
Although 4 and 5-star reviews are great for increasing sales, the research also supports the fact that a high quantity of reviews is also beneficial.

The best strategy, therefore, will include collecting both more reviews than your competitors and collecting more 4 and 5-star reviews as well. But more and better reviews is not the end-game. You also need to partner with a company that can promote those reviews in more places that count, like Google My Business.
Manage Your Local Reviews Across Multiple Review Sites
You can't manage what you can't see
Currently, your local customers have the ability to leave a review on dozens
of different review sites and social media platforms online, which can be very
difficult for you to effectively see and manage.
Local Reviews solves this problem, by allowing you to easily manage all your
reviews from multiple review sites – all inside of your control panel.
Don't Settle For Less
Local Reviews has more ways to collect and promote more reviews in more places than anyone
Local Reviews™ gives you a variety of highly-effective review collection tools that allow you to collect significantly more ratings and reviews from your existing customers.
In addition, our team of experts works with you to seamlessly integrate both review collection and social proof (the display of user generated ratings and reviews) into your business marketing and branding strategy. This helps to increase your review collection efforts, while simultaneously building your trust and credibility.
---
Display Your Reviews Everywhere Potential
Customers Are Looking
In today's mobile economy, you need to display your reviews on multiple
review platforms so every potential customer can find you
Local Reviews lets you choose which review platforms you want your customers to leave reviews on, ultimately putting you in control of your online reputation across the Internet.
You can focus more reviews to broader sites like Google My Business® or Facebook®, or you can niche down to smaller review sites that cater to your particular industry. It's completely up to you.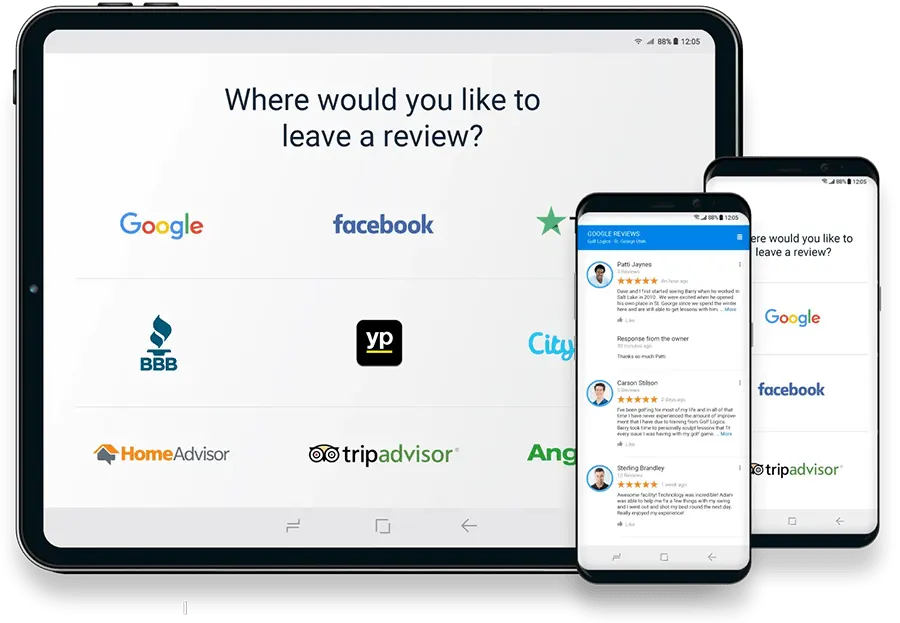 Having Unmanaged Reviews Can Destroy Your Business
If you don't actively manage your reviews and reputation, you often end-up with only poor reviews
Managing your reputation means proactively soliciting both more and better reviews from happy customers, and publically responding to negative ones as well. This creates a sense of customer centricity and responsibility, which builds trust. Having just poor reviews that have not been responded to, makes the company look detached and disinterested in their customers.

Star-ratings and reviews matter, because oftentimes they are the only perception the market has of your brand. And people prefer to do business with credible and popular businesses with lots of good reviews and ratings. A Harvard study, for example, has shown that an increase in a restaurant's rating by just one-star can increase revenue by 5-9%.
Your Reputation Is In The Best Possible Hands
Local Reviews was built on a foundation of review knowledge and experience
Local Reviews is the sister company of Shopper Approved – a Google Review Partner; one of the largest e-commerce review companies in the world, and one of the fastest growing companies in America according to Inc. Magazine.

Receive a free 20-minute online
product demonstration.